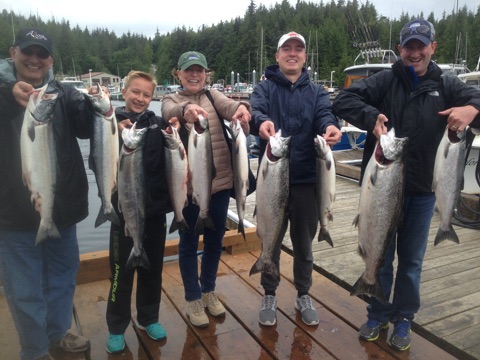 When it comes to finding the right fishing charter around Ketchikan, AK for your next outdoor adventure, the choice should be simple. Anglers Adventures & Outfitters takes pride in offering our clients a unique and memorable fishing experience where they can search for some of the best fish in the area. To top it off, we will make sure that your fishing charter is one for the memory books from start to finish! We offer full day, half day and multiple day charters for all ages and experience levels.
Finding The Right Captain For Your Alaskan Fishing Charter
Your fishing charter will only go as far as your captain will take you, so it's important for you to get to know your captain. Our captain, Brian Ringeison, has the experience and knowledge of these beautiful waters to get you exactly where you need to go to find the best salmon and halibut around. Brian started his journey by obtaining his US Coast Guard license in Alaska at the young age of 19. Fast forward to the present and Captain Brian now has more than 26 years of guiding experience and calls Ketchikan, AK his permanent home. He is fully licensed, insured and is CPR and First Aid Certified. This gives all of our clients the peace of mind that they are well taken care of no matter what your fishing charter may bring. Fishing is Brian's absolute passion, and nothing makes him happier than sharing his passion with all of our charter guests.
Charter Options for All Fishing Levels
Not everyone is on the same level when it comes to their fishing experience, and that is ok. In fact, within the same fishing charter, you may have some fishing for the first time and others who fish regularly. Whatever your situation may be, our team will make sure that your fishing charter is a memorable one and no experience is necessary. When deciding on the right fishing charter for your group, choose between one of the following options:
● Half-Day Charters – A lot can be accomplished even on a half-day fishing charter. Brian will take you to the best fishing locations around Ketchikan and help you find the best salmon, rockfish, or black & grey cod around.
● Full-Day Charters – Hop on our amazing F/V Sierra Dawn 28' Bayline Trophy boat and tackle the Alaskan waters for a full day fishing charter. With 8 to 10 hours of fishing, you'll increase your likelihood of catching a fish for your personal record book.
● Multi-Day Charters – For those experienced guests that want to spend multiple days out on the water, we've got you covered through our multi-day fishing charter.
At Anglers Adventures & Outfitters, we believe that there is no better way to spend your time in Ketchikan, AK than on a guided fishing charter with our staff. To learn more about our high quality fishing charters, give us a call today at (907) 254-0880 or email brian@anglers-adventures.com.