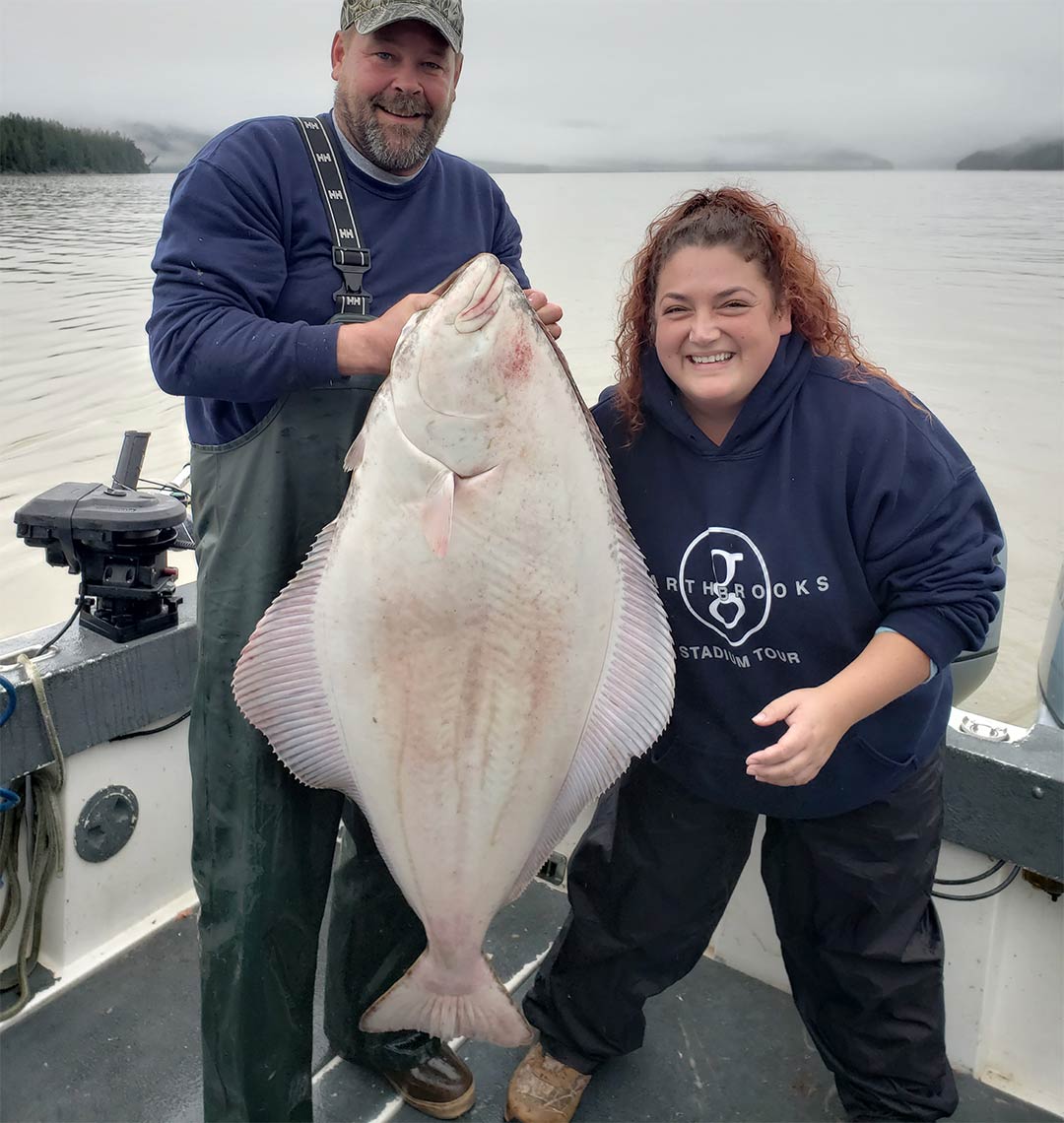 The halibut may not be the first fish you think of when you envision an Alaskan fishing adventure, but halibut are plentiful in the area and fairly easy to catch if you are taken to the right locations. Halibut season lasts for nearly 8 months – from mid-March until mid-November, so you have a lot of flexibility when you plan a halibut fishing trip. The state record for the largest halibut ever caught is 459 lbs. so you can expect a wide range of sizes when you fish. The halibut has a distinct appearance—a narrow body from the front or back, but a wide profile that makes it a formidable opponent to reel in.
Why Fish for Halibut in Alaska?
When most people think about Alaska's aquatic life, they are likely to name the killer whale or the sea lion first.  If asked about the first fish to come to mind, they will probably name one or another species of salmon.  The halibut is likely to make an appearance somewhere further down that list.  But the value of the halibut should not be overlooked.  It may not be the first Alaskan fish most people name, but it is an important species for people who love to fish.  If you have fished for halibut before, chances are good that you understand this point.  If you have not yet fished for halibut, the team at Anglers' Adventures highly recommends it. Halibut are one of the most nutritious species of fish you can catch.  The flavor is unique and lacks that strong 'fishy' quality that turns some people in other directions.  It is also rich in Omega-3 fatty acids and many other nutrients.
All Inclusive Ketchikan, Alaska Halibut Fishing Adventure
When you fish for halibut with Anglers Adventures, you will be doing so in arguably the best of all possible circumstances.  First, you will have chartered with one of the world's finest fishing excursion companies available.  We have taken great care to ensure that our clients have a good experience with Anglers Adventures from the first question you ask to the last step you take off our boat at the end of your adventure.  Second, our boat, The Sierra Dawn, provides both a sense of adventure and the assurance of safety while out on the water.  And third, those waters just mentioned: There is nowhere on Earth more beautiful than Ketchikan, Alaska.
We provide all of what you will need to enjoy a half- or full-day excursion: bait, tackle, and equipment for fishing, and snacks and drinks for when you need replenishment. We would be excited to have you join us for some great halibut fishing.  Call us at (907) 254-0880 for more information.