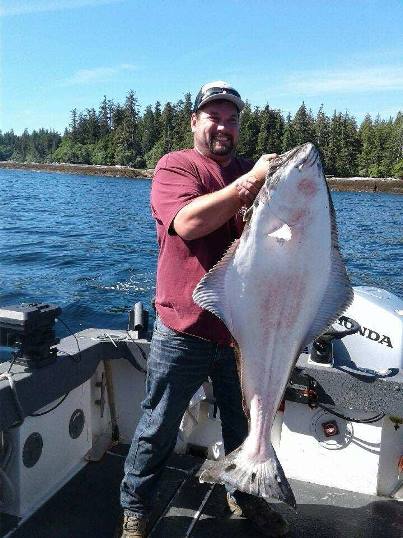 At Anglers Adventures & Outfitters, we are no strangers to fishermen looking for a real Alaskan adventure. If you are searching for the most intense reel in of your angler career, consider halibut fishing with Anglers Adventures & Outfitters. At Anglers Adventures & Outfitters in Ketchikan, Alaska, we have everything you need to successfully reel in that prized halibut you've always dreamed of.
Catching a Halibut
If you are at all into sports fishing, it's likely that you've heard of the allusive halibut. Halibut are extremely fun to fish and even more delicious to eat. They are known for their delectable flavor, their bony nature and their strong will in the water. While most halibut reeled in weigh anywhere from 15 to 20 pounds, some anglers in Ketchikan have caught halibut well over 150 pounds. The state record is currently held at 459 pounds. That's a lot of fish! If you are looking for a real workout on the Alaskan sea, it's safe to say that you can meet your match while halibut fishing. Halibut are plentiful in Ketchikan, Alaska and Anglers Adventures & Outfitters has everything you need for a successful day out on the water.
Reeling in the Halibut
No matter how experienced a fisherman you may be, Anglers Adventures & Outfitters accommodates everyone. Our 28' Bayliner Trophy comes with a pair of 225hp Honda motors and a heated enclosed cabin with a private bathroom for comfort. It comes fully equipped with a chart plotter, a GPS system, depth sounders, and brand new Scotty electric downriggers and rod holders. Our typical halibut fishing charter takes anywhere from 4-6 people. We cover everything you may need out on the water. Brian Ringeisen, your Captain, has over 26 years of guiding experience in Ketchikan and is known for putting people right on to halibut. We bring along all necessary gear, bait and tackle to make for a successful trip out on the water.
So, whether it's your first time fishing in Alaska or you come out every weekend, Anglers Adventures & Outfitters is sure to make your halibut fishing charter in Ketchikan, Alaska a trip of a lifetime.
To learn more information about halibut fishing in Ketchikan, Alaska, give us a call today. Contact Anglers Adventures & Outfitters at (907) 254-0880. Your Alaskan adventure awaits! Book your unique halibut fishing trip today!