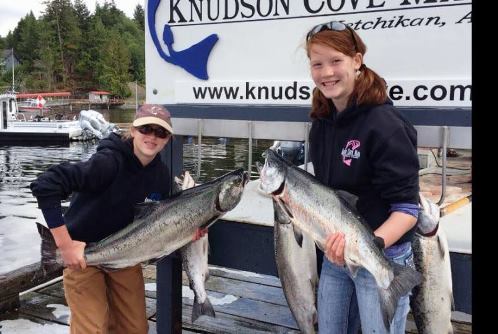 Anglers Adventures & Outfitters provides an Alaskan family fishing trip of a lifetime. Now more than ever, it seems evidently true: Quality time with family is time well spent. Whether you've never stepped foot on a boat in your entire life or you've been fishing since you could walk, an Alaskan family fishing trip is the perfect opportunity for quality time with the family and fun memories to last a lifetime. At Anglers Adventures & Outfitters, we are here to help you make the most out of your Alaskan family fishing trip.
No Fishing Experts Necessary
Captain Brian Ringeisen, owner and personal fishing guide, has been navigating Ketchikan, Alaska's waters for over 26 years. His love for the area and passion for fishing exuberates in his guiding and teaching. While we welcome expert anglers to come and will offer support as needed, no one needs to be an expert here. If it's your first time ever holding a fishing pole, that's okay! Brian will teach you everything you need to know out on the water. He is well versed in all types of fishing and knows exactly where the best local fishing spots are to set you up for a successful day.
All Fishing Gear Included
Don't have all the gear that you need? Anglers Adventures & Outfitters makes it extremely simple to plan and execute. There is no need to go out and buy a ton of gear for this fishing trip. In fact, all you need to do is show up! We cover all of the essential gear and rainwear you could possibly need on the water. We provide all of the bait, tackle and lures needed for your charter and we have snacks and beverages on board to keep your spirits high and your energy up. Our boat comes equipped with a pair of 225hp Honda engines, a chart plotter, GPS, depth sounders, 4 brand new Scotty electric downriggers and rod holders and of course, excitement that you just can't buy! The boat also has an enclosed heated cabin and a private bathroom so that you have everything you need to be comfortable out on the water.
Whether you are six years of age or sixty, an Alaskan family fishing trip offers so much fun and excitement, you are guaranteed to make priceless memories with your family. Don't miss out on the opportunity to make memories of a lifetime. For more information about your Alaskan family fishing trip with Anglers Adventures & Outfitters, give us a call today at (907) 254-0880