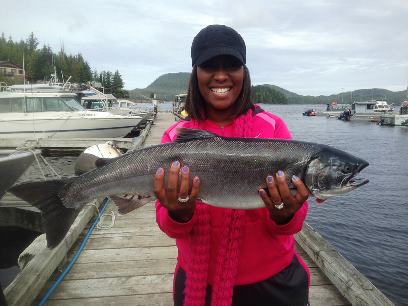 It's no secret that people from all over the world come and visit Southeast Alaska in hopes of catching a prized fish on a once in a lifetime fishing trip. At Anglers Adventures & Outfitters, our goal is to make your trip an experience you will never forget. From our unique lodging experience to our private fishing charters out on the Southeast Alaskan waters, we have everything you need to make it a successful trip out on the water.
Chartered Fishing In Alaska Like You Haven't Experienced
Sure, there are lots of large fishing boats ready to take you out on the water with 20 other random people. However, if you want to fully experience life out on the water with your family or friends, our fishing charter is the more ideal choice. Allowing for four to six guests, our fishing charter allows you the opportunity to make it your own. Creating your own unique bonding experience away from the crowds while breathing in the fresh, Alaskan air is priceless. Perhaps the most favorable part of the experience is the ability to help when needed. Fishing is fun for all ages and levels. Whether you have never fished before or you consider yourself a serious angler, Captain Brian Ringleisen, is here to help you with all of your needs. With over 26 years of guiding experience, Brian is here to help put you on that dream fish and give you a trip of a lifetime.
All Inclusive Fishing Charter
During your fishing charter, our team will provide you with everything you need. Snacks, beverages and all of the essential gear and rain gear needed for the day. Additionally, we will cover all of the bait, tackle and lures, utilizing our most successful ones to help you reel in your catch! Our boat is a 28' Bayliner Trophy boat. It comes equipped with a pair of 225hp Honda engines, a chart plotter, GPS, depth sounders, 4 new Scotty electric downriggers and rod holders. Our boat is fully licensed, insured and ready for all that your fishing trip has to handle. Looking for more than just an "on the water" experience? Your dream fishing trip doesn't end once we dock!
Private Oceanside Lodging Ketchikan, Alaska
Our unique lodging experience allows for your Alaskan fishing trip to continue on land. With 3 bedrooms, 2 baths and a large ocean view deck, you'll be more than comfortable here in your Alaskan fishing lodge. Created with an attached and ventilated fish processing room with freezer storage, you can keep your catch nice and fresh until you head home.
For more information about your private Alaskan fishing charter, give Anglers Adventures & Outfitters a call today. Contact us today at (907) 254-0880