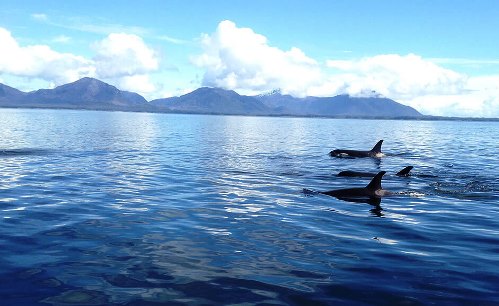 Most people who take advantage of the experiences provided by Anglers Adventures & Outfitters do so because they are looking to create amazing fishing memories.  Creating amazing fishing experiences and memories is one of our specialties. In fact, we believe that there is not a fishing charter service out there—in Alaska or in the lower forty-eight states—that can surpass the adventure and the memories we provide.  When you partner with our crew at Anglers Adventures & Outfitters, your adventures are not limited to fishing.
In addition to our widely popular fishing charter options, we also offer breathtaking whale watching and off-ship excursions that allow for some of the most memorable wildlife experiences you will ever have.
Whale Watching in Ketchikan, Alaska
Ketchikan, Alaska, remains one of the most breathtaking places on Earth.  It strikes a balance of human habitation and untouched wilderness.  When you spend time out on the waters off Ketchikan on our boat, The Sierra Dawn, there is always a good chance of interacting with the kind of sea life that makes this part of the world unique.  Our clients often see huge numbers of sea lions, sometimes swimming alongside The Sierra Dawn and sometimes sunning themselves on the rocks along the shore.  It is also not uncommon to spot a killer whale pod, competing with our own clients for the salmon in the beautiful waters.  When you see a killer whale for the first time, you will marvel at its size.  Killer whales are, by any definition, a huge animal.  On one of our charters you may also have the opportunity to see a humpback whale as well, which makes the killer seem almost small by comparison.
Off-Ship Excursions in Alaska
Off-ship excursions sometimes give you the chance to see sea life from the perspective of land.  It is much easier to get a sense of a sea lion's personality, for example, when you see it napping on a beach or sunning itself on the rocky shore.  If you choose to spend time further inland, you could see other kinds of wildlife.  Ketchikan has it all. We do not recommend crossing paths with moose, but the chances of being able to avoid a lumbering porcupine are pretty good.
We are fortunate to run our business in what we consider to be the most beautiful place on Earth, and we are privileged to be able to provide a service that gets people in touch with nature.  If you are interested in fishing, whale watching, or spending time off the boat for wildlife watching, Anglers Adventures & Outfitters can give you the experience you are looking for. Call us at (907) 254-0880 to schedule an excursion.