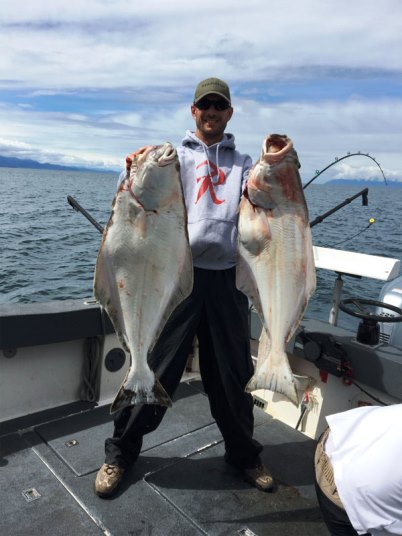 Yes, Ketchikan, Alaska is known for being the Salmon capital of the world. However, let's not forget about all the other fish in the sea. One species of game that should never be overlooked is the halibut fish. Catching halibut in Alaska is an important component to our economy and is an extremely popular sportfish that happens to also be delicious. At Anglers Adventures & Outfitters, we are proud to provide halibut sport fishing opportunities within the Alaskan waters and ready to take you on an exciting adventure. Catching halibut in Alaska is always a good time.
Alaskan Halibut Record
When you decide to take a fishing trip out in Alaska, there's rarely a more exciting fish to catch than the halibut. Halibut fish are extremely bony. In fact, they are one of the largest bony fish in the world. This makes them extremely strong fighters and a prized fish that any sportsman would appreciate. On average, a halibut weighs anywhere from 15 to 20 pounds. However, we've seen many over 150 pounds! Currently, our state record for a halibut is 459 lbs. Imagine reeling in that big boy! Halibut swim sideways in the water. Their eyes are found on only one side of their body. They are most abundant during our warmer months here in Ketchikan and can be a long, arduous fight to reel in. Anglers Adventures & Outfitters is here to help you get that prized fish.
Alaskan Halibut Fishing Charter
Our halibut charter will place you in the perfect position to catch halibut in Alaska. We provide all of the essential gear, all of the bait, tackle, and lures specific to your halibut, and even snacks and drinks during your time out on the water. Your Captain and knowledgeable guide, Brian Ringeisen, has over 26 years of experience in catching halibut in Alaska and is dedicated to providing you with all the help you need to make the most out of your halibut fishing trip. Our boat comes equipped with a pair of 225hp Hondas, a heated enclosed cabin, a private bathroom, a chart plotter, GPS, depth sounders and new electric rigs to help you catch your halibut.
If you are dreaming about catching halibut in Alaska, let us help your dreams come to fruition. Call Anglers Adventures & Outfitters today and book your halibut fishing charter. For more information about catching halibut in Alaska and our services here at Anglers Adventures & Outfitters, give us a call today. Call us at (907) 254-0880 or send us an email at brian@anglers-adventures.com.