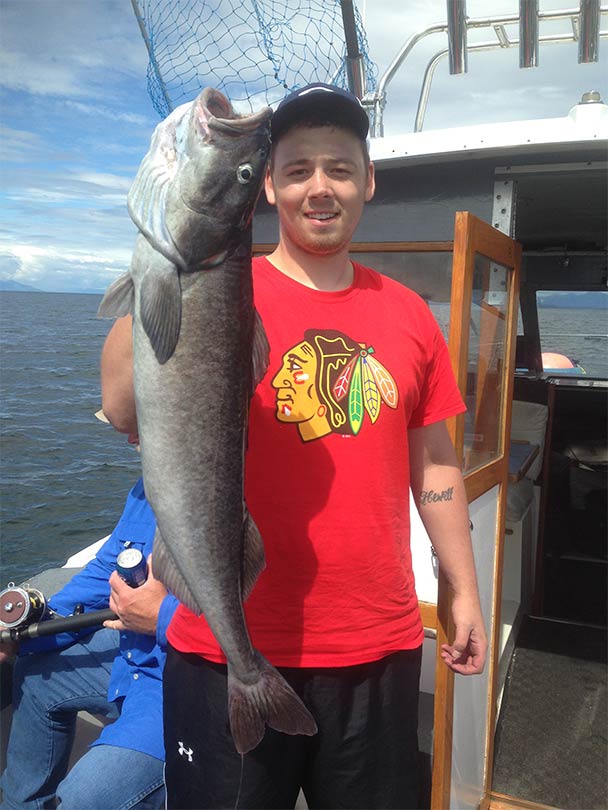 At Anglers Adventures & Outfitters, your goals become our goals. We want you to make the most out of your trip. Often times, people choose to do an Alaskan fishing trip for a specific catch. If you are looking to take home some delicious Black Cod, we've got you covered here at Anglers Adventures & Outfitters. Black Cod fishing isn't always easy. However, with our expert guide at Anglers Adventures, Brian Ringeisen, you'll be sure to get the most out of your Ketchikan, Alaska Black Cod Fishing Excursion.
Why Fish for Black Cod?
Black Cod is known to some as the best tasting fish in the world. Many gourmet meals are made from this fish. Known as the "butterfish" it holds deep flavors that are quite appealing to the taste buds. In Ketchikan, Alaska, we are fortunate enough to have large schools of Black Cod that roam beneath our Southeast Alaskan waters. They like to stay within the seabeds of Alaska's extremely nutrient rich waters and can live to be anywhere from 55 to 94 years of age. They are approximately 3 feet long and weigh, on average, anywhere from 8 to 10 pounds. However, some Alaskan fishermen have recorded catching Black Cod much larger than that. That's a lot of butterfish! As stated before, Black Cod aren't always easy to catch. Experience, the right equipment, and a little skill are all necessary when going after the Black Cod. Fortunately, Anglers Adventures & Outfitters has everything you need to make it a successful day out on the water.
Experienced Black Cod Fishing Charter Captain
At Anglers Adventures & Outfitters, we provide everything you need to have a great day out at sea. From all of the essential gear and rain gear to the snacks and beverages on the trip, we make sure you are well accommodated before ever leaving the dock. For Black Cod fishing, we have all of the bait, tackle, lures and equipment to help you catch your dream fish. Best of all, your Captain and fishing guide, Brian, is here to put you on them. With over 26 years of guiding experience and a licensed Captain for the U.S. Coast Guard for 25 years, Brian knows these waters like the back of his hand.
If you are interested in learning more about our Black Cod guided fishing trips in Ketchikan, Alaska, give us a call today. Call and book your fishing trip at (907) 254-0880 or send Anglers Adventures & Outfitters an email at brian@anglers-adventures.com today.