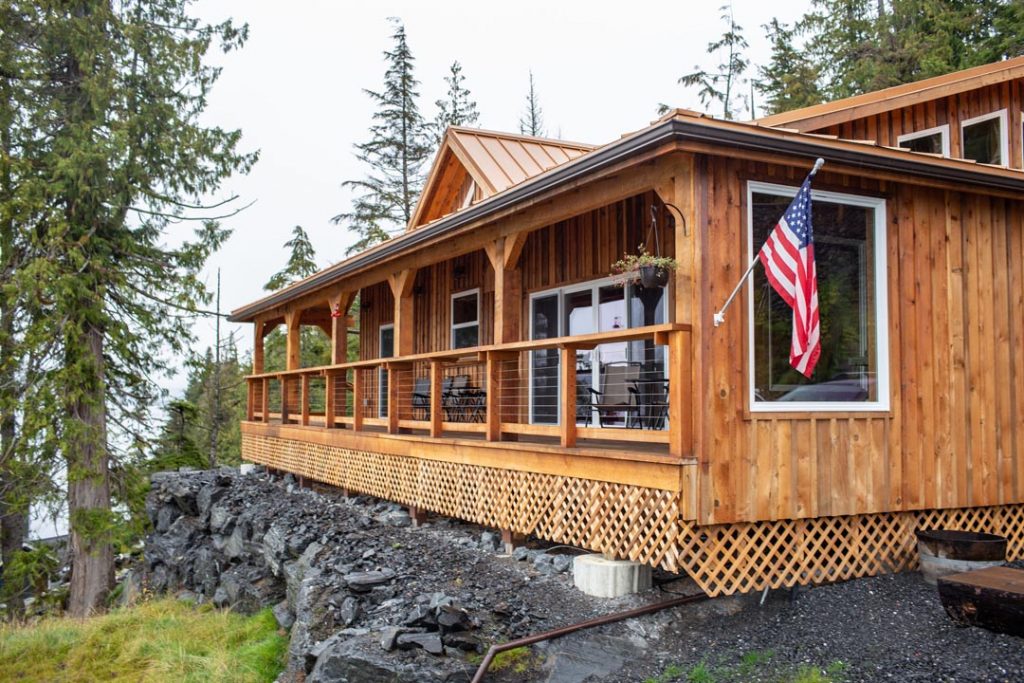 Since the day our doors opened, Anglers Adventures & Outfitters has offered amazing fishing excursions.  We have worked to earn the right to include the word 'Adventures' in our company title.  But now, new for 2020, is the perfect complement to the adventures you will enjoy while fishing on our boat: an Alaskan fishing adventure including lodging in Ketchikan!
Alaska Fishing Excursion & Oceanside Lodge
If the idea of enjoying some of the best fishing in the world appeals to you, think about the idea of being able to stay in a beautiful place before and after your fishing excursion. Our new private Oceanside Lodge is now available for you to reserve for one night or multiple nights.  It is a three-bedroom facility with two bathrooms, a large kitchen area, a living room, a dining room, and—in keeping with your goal of catching some amazing fish—a ventilated processing room with freezer storage provided.  Our new lodge allows you to enjoy the stunning beauty of Clover Pass, and it is located a very short distance from The Sierra Dawn's docking station in Knudsen Cove.
We are extremely excited to offer our customers the option of lodging, so you can now extend your fishing excursion over a longer period of time, enjoying more of the beauty of the area. We have always been proud of the experiences and adventures we create for our clients. The Sierra Dawn is a perfect boat for fishing in Knudsen Cove, offering the maritime safety and mechanical reliability that our guests expect and deserve.  You can get everything that you need for your ideal fishing adventure when you work with us and when you need a break from the action, the Sierra Dawn provides refuge as well.  It is equipped with many creature comforts, including private quarters with a restroom.  The addition of the Oceanside Lodge simply completes the picture.
The fun of being out on the water, fishing for your species of choice, is unlike almost any other guided adventure you can experience.  It is exhilarating to spend time out on the most beautiful water in the world doing what you love—fishing.  Knowing that you can now return from that adventure to the comfort of the Oceanside Lodge raises the quality of an Anglers Adventures excursion to a new level.
If you have any questions about our new oceanside facility, or if you are ready to book your adventure right now, call Anglers Adventures & Outfitters at 907-254-0880.