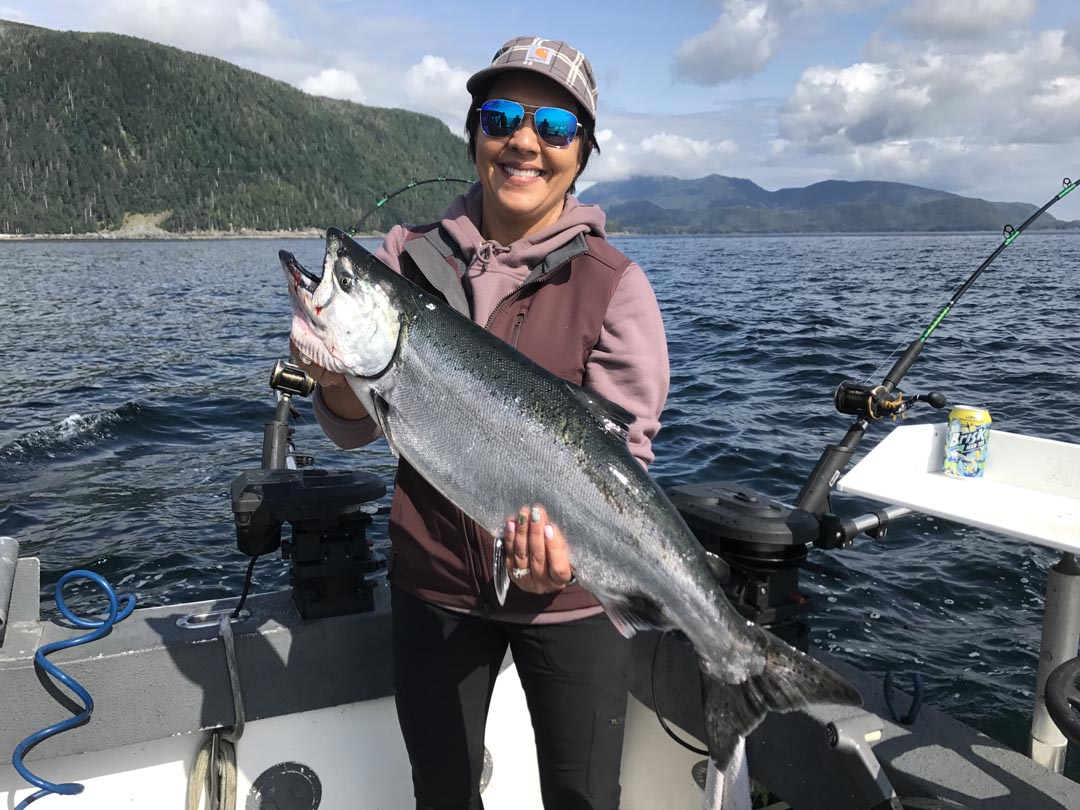 There is little doubt that Alaska is the Salmon Capital of the World. It may also be true that Ketchikan is the salmon capital of Alaska. Ketchikan is one of the most beautiful places on the planet and if you like fishing, there is literally no better place to enjoy a location's natural beauty while participating in an activity—fishing—that you either already love or have always wanted to try.
Ketchikan Salmon Fishing Charter
Anglers Adventures strives to give our clients the single best fishing experience you can find. Anglers—the name given to people who are serious about fishing—often enjoy a leisurely day out on a lake or alongside a stream. What they may experience less frequently is the adventure side of the angler's experience. It is the adventure side of the angler's experience that Anglers Adventures provides. While there is certainly a time for reclining in a small boat on a lake or wading in the shallow waters of a stream, there is nothing like fishing in the waters off Ketchikan for salmon.
When you schedule a salmon fishing expedition with Anglers Adventures, you will have a chance to catch King salmon (so named for its exalted place among all salmon species), Coho salmon, Sockeye, Pink, and/or Keta. Salmon remain a vibrant species in Alaska, and Anglers Adventures has the experience and expertise to help you find them. We even provide you with the necessary equipment to complete your fishing adventure. All you have to do is get yourself here and we will provide the rest.
Private, Guided Fishing Charters
When you charter a fishing trip with Anglers Adventures, you will be booking a trip on the Sierra Dawn, captained by Brian Ringeissen. This boat is truly an alternative to the kind of boat that is suitable for lake fishing. The Sierra Dawn is a 28-foot Bayliner Trophy that is powered by two 225-horsepower Honda engines. If the weather adds to the adventure, you can take refuge in the heated and enclosed cabin. We even offer a private bathroom for our clients' comfort.
Our goal is always to provide our clients with the best possible fishing experience. Ketchikan does its part simply by being a beautiful provider of breathtaking scenery and the potential to see some of Alaska's amazing wildlife, both land-based and sea-based.
If you are ready for the unique experiences that Anglers Adventures provides, call us (907) 254-0880 or send an email to brian@anglers-adventures.com and we will be happy to get you started on the fishing adventure of your lifetime.