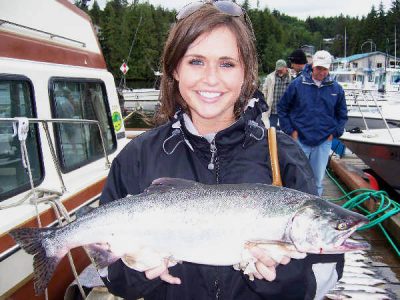 At Anglers Adventures & Outfitters, we are proud to be a place that is able to showcase all of the great aspects of Ketchikan, Alaska. If Alaska has been on your bucket list for a while, don't miss your opportunity to get up close and personal with the Alaskan outdoors in Ketchikan, Alaska. At Anglers Adventures & Outfitters, we have all of the amenities to make this the perfect Alaskan vacation.
Ketchikan Alaska Fishing Vacation
It would be shameful if we did not mention the opportunity to fish our Southeast Alaskan waters first. Fishing in Ketchikan, Alaska is known to be one of the greatest opportunities for all types of fishing levels. From serious sport fishing to fishing for the first time, Ketchikan, Alaska has something in the water that everyone can catch. At Anglers Adventures & Outfitters, we commonly take our guests out on charters for famous Salmon fishing excursions. Since our home is known as the Salmon capital of the world, it's only right that Salmon be a popular choice among visitors. Additionally, many of our guests thoroughly enjoy the thrill of halibut fish. Known for being an extremely bony fish, this type of fishing ensures an exciting time out on the water as our guests work hard to reel in their catch.
Ketchikan Alaska Whale Watching Vacation
At Anglers Adventures & Outfitters, we are thorough believers that every moment out on the water gives our guests the opportunity to witness something miraculous. Our crew once caught a Killer Whale throwing a Sea Lion around with his tail. Others have felt the splash of the water after a whale plunged back into his water. Imagine what you might see up close and personal when you decide that Ketchikan, Alaska is the perfect vacation for you. Anglers Adventures & Outfitters can easily take you out a short distance away from our dock and customize a whale watching charter that is sure to not disappoint.
Ketchikan Alaska Vacation | Fishing, Whale Watching & Sight Seeing
No longer is it hard to bundle your vacation to Ketchikan all together. Anglers Adventures & Outfitters now has a lodge with a beautiful, large ocean view deck, plenty of room for the family and even an attached and ventilated fish processing room so that you can properly take care of your catches. Whether you want to get back out on the Alaskan waters again the next day or check out local waterfalls and Ketchikan's downtown area, having your lodging in the perfect location makes things much easier.
Ketchikan, Alaska is a wonderful place to unwind, relax and take a nice vacation. At Anglers Adventures & Outfitters, we are here to help you with all of your Alaska vacation needs. For more information, give us a call today at (907) 254-0880 or send us an email at brian@anglers-adventures.com.