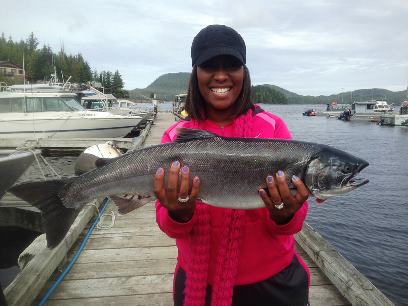 Anglers Adventures & Outfitters offers both full & half-day charters in Ketchikan, Alaska. On both the full-day and half-day charters, you will have a great chance of catching fish and also seeing some amazing wildlife. It is not uncommon for our clients to see whales and seals, and if our boat is close enough to land, it is also possible to spot a moose and maybe even a grizzly bear.
Fishing around Ketchikan, Alaska offers beauty and unpredictability as well as some of the best fishing you can find anywhere in the world. The beauty of Alaska is well known. In the foreground, you are likely to feel the peace and tranquility of fishing on calm water; in the distance, you are likely to see the rugged mountains that make this part of the world one of the last remaining wild places. And in between is the wildlife that pop up when you least expect them and often respond to you with curiosity and inquisitiveness.
And all of this can be experienced on either a full-day or half-day charter with Anglers Adventures. We offer full-day and half-day charters to meet the needs of as many clients as possible. Alaska's beauty should be seen and experienced, and an ideal way of doing so is to go out on the water with an experienced guide like Brian Ringeissen to do some fishing.
The Advantages of a Full-Day Charter
The most obvious advantage of a full-day charter is that it provides an extended amount of time to fish, relax, and experience the beauty of Ketchikan and the Alaska waters. Spending eight to ten hours on our boat, The Sierra Dawn, gives you a great chance to catch some fish and really settle into the experience of Ketchikan fishing. It also gives you time to take full advantage of the luxuries of our boat which include private quarters and bathroom. All the equipment you will need to enjoy your day of fishing is provided.
Half-Day Charters
We also realize that not everyone can afford to spend a full day on our boat but still want to enjoy the experiences described above. Half-day charters are ideal for people with busy schedules or people who are not quite sure yet about whether or not they will enjoy being on a boat but want to try it. For a shorter amount of time, you can experience Alaskan fishing and the expertise and vast experience of Captain Ringeissen.
If you would like to schedule a full day or half-day charter with Anglers Adventures or simply get more information, give us a call at (907) 254-0880.