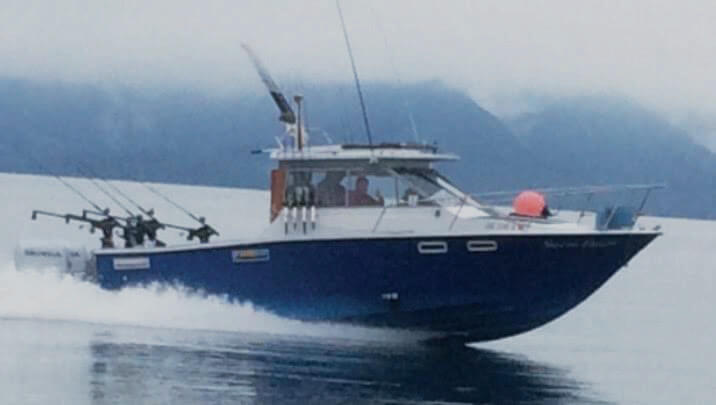 If you've ever considered vacationing in or around Alaska and if you are needing Alaska vacation ideas, the gorgeous town and waters of Ketchikan, Alaska is the prime location. Located right on the beautiful waters of Ketchikan, Anglers Adventures & Outfitters is here to make your vacationing dreams come true. We offer amazing vacations and adventures that are fun for the whole family. Whether you want to take a multi-day fishing trip out to sea or spend a day with a local guide showing you all that our wildlife has to offer, there is something fun for everyone at Anglers Adventures & Outfitters.
All-Inclusive Fishing Charter
If you have spent any time fishing or even learning about fishing, it's likely that you've put Alaskan fishing on your bucket list. Imagine reeling in a 40-pound King Salmon or fighting with a Halibut until he tires out enough to get him out of the water. Our all-inclusive fishing charters provide everything you need for a successful day out on the water.
Off-Ship Excursion Day Trips
Perhaps you are passing through on a cruise ship and looking for a more up close and personal look at our waters. Anglers Adventures & Outfitters is no stranger to working with your cruise line schedule to ensure that you get the perfect off-ship excursion day trip that you are looking for!
Wildlife Watching Excursions
When we aren't fishing ourselves, one of our favorite things to do is show off our town a little bit by offering wildlife watching excursions. Ketchikan, Alaska is known for our exciting wildlife and beautiful scenery. Absolutely nothing compares to seeing the Southeast Alaskan waters up close and personal. From chasing whales to photographing frolicking sea lions, our wildlife watching excursions are always memorable.
Whale Watching
It's no secret that whale watching is a flourishing market here in Ketchikan but not everyone gets an up close and personal look. Anglers Adventures & Outfitters makes it a much more intimate and customized affair. Our 28' Bayliner Trophy boat is the perfect size for getting a much closer look at our beautiful friends without sacrificing the comfortability on board.
Local Alaskan Guides
For over 26 years, our local guide and Captain, Brian Ringeisen, has been guiding Ketchikan, Alaskan visitors through the Alaskan waters. Serving also has a US Coast Guard, Brian keeps his passengers safe and secure while showing you all that our Alaskan waters have to offer. His goal is always for his passengers to have a great time and get the most out of their trip here in Alaska.
Ready for your Alaskan vacation? For more information about Anglers Adventures & Outfitters, give us a call today at (907) 254-0880 or send us an email at brian@anglers-adventures.com.