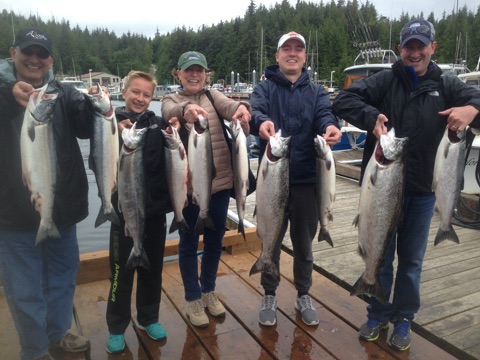 At Anglers Adventures & Outfitters, we thoroughly enjoy what we do. When you choose one of our Alaskan fishing charters, we want our love for fishing and the Alaskan waters to radiate through us so that you and your guests can enjoy it too. For this reason, anytime someone books a charter with us at Anglers Adventures & Outfitters, their goals become our goals and we try our hardest to give you the best experience out on the water as possible. We understand that there are several different Alaskan fishing charters to choose from, but we know that choosing Anglers Adventures & Outfitters is a choice that you will be happy with.
Alaska Fishing Charter Options when you Choose Anglers
At Anglers Adventures & Outfitters, we offer a wide array of options for our guests. Whether you are coming into the area specifically for fishing or you are passing thru on a cruise, Anglers Adventures & Outfitters aims to accommodate you with half, full and even multi-day fishing charters. Once we know the kind of time you have, we can then begin to focus on your fishing goals. In Ketchikan, Alaska, we have a plethora of fishing options. We commonly target all types of salmon from pink to king, the fiercest fighting fish also known as halibut, rockfish, and even black and grey cod. Our popular fishing charter options include:
Salmon Fishing – Ketchikan is known for being the "Salmon Capital of the World." If you are looking to catch some delicious salmon, it can be found right in our backyard. We use both artificial lures and dead baits to catch our beautiful salmon and will work diligently to put you in the right position for the perfect catch.
Halibut Fishing – Halibut fishing is most definitely a spot. Halibut are bony fish which make them extremely strong fighters. Brian, owner and Captain here at Anglers Adventures & Outfitters, can help guide you as much as you need when you've got a big Halibut on your line.
Meeting All Your Needs While Fishing in Alaskan Waters
As we've said before, when you step aboard, your needs become ours. We want all of our passengers to have everything they need for a successful day out on the water. Anglers Adventures & Outfitters will provide all of the essential gear needed for the day, including all of the bait, tackle and lures needed for the type of fishing we may be doing. We also offer a heated and enclosed cabin as well as a private bathroom. Our boat comes equipped with a chart plotter, GPS system, depth sounders and new Scotty electric downriggers and rod holders to utilize during our fishing charters.
Ready to book your next Alaskan fishing charter? For more information about Anglers Adventures & Outfitters, give us a call today at (907) 254-0880 or send us an email at brian@anglers-adventures.com.