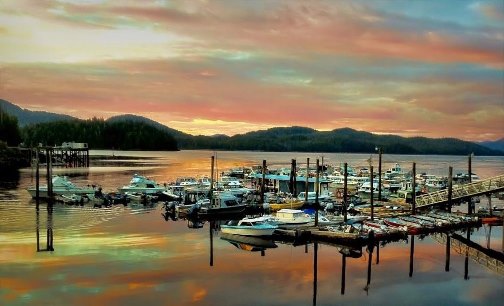 In Ketchikan, Alaska, venturing out into our waters can be an experience of a lifetime or simply just an experience. When you choose Anglers Adventures & Outfitters, you are choosing an unforgettable experience. All of our guided tours are all inclusive and are tailored to meet your groups needs. That's right! We customize every tour to your wants and desires and do our best to achieve your goals for the trip. From whale watching in the Southeast Alaskan waters to catching that beautiful King Salmon, every experience at Anglers Adventures & Outfitters is a memorable one.
All Inclusive Guided Tours in Ketchikan Alaska
At Anglers Adventures & Outfitters, we want everyone to feel comfortable and safe aboard our vessel. The F/V Sierra Dawn comes equipped with everything we need for a successful day out on the water. Aboard our boat, we have a chart plotter, GPS navigation, depth sounders, and four Scotty electric downriggers and rod holders. Additionally, our boat has an enclosed and heated cabin along with a private bathroom for our guests. We carry on board all of the bait, tackle and lures for the trip, along with an ample amount of drinks and snacks to keep everyone's energy up. Oh, and did we mention our guide? Whether you are an experienced angler or just stepping onto a boat for the first time, your Captain, Brian, will help you with all of the fishing guidance and instruction that you want or need.
Ketchikan Alaska Guided Tours
At Anglers Adventures & Outfitters, our tours are customized to fit your needs. We offer fishing tours for half, full and even multi-day excursions. When you book a guided tour with us, we will ask you what type of fish you are hoping to catch. We target all different types of salmon, from small to King, along with halibut, rockfish and even black & grey cod. We also enjoy taking passengers out that don't want to fish at all! Spend the day chasing that perfect picture of Alaskan wildlife. Whether you want to cruise around and take in the Alaskan views or get up close and personal during a whale watching excursion, Anglers Adventures & Outfitters can help!
For more information about our Ketchikan Alaska guides and outfitters, give us a call today. From our guided tours to our lodging accommodations, Anglers Adventures & Outfitters has everything you need to make your trip to Ketchikan, Alaska a successful one. Call us today at (907) 254-0880 or send us an email at brian@anglers-adventures.com.