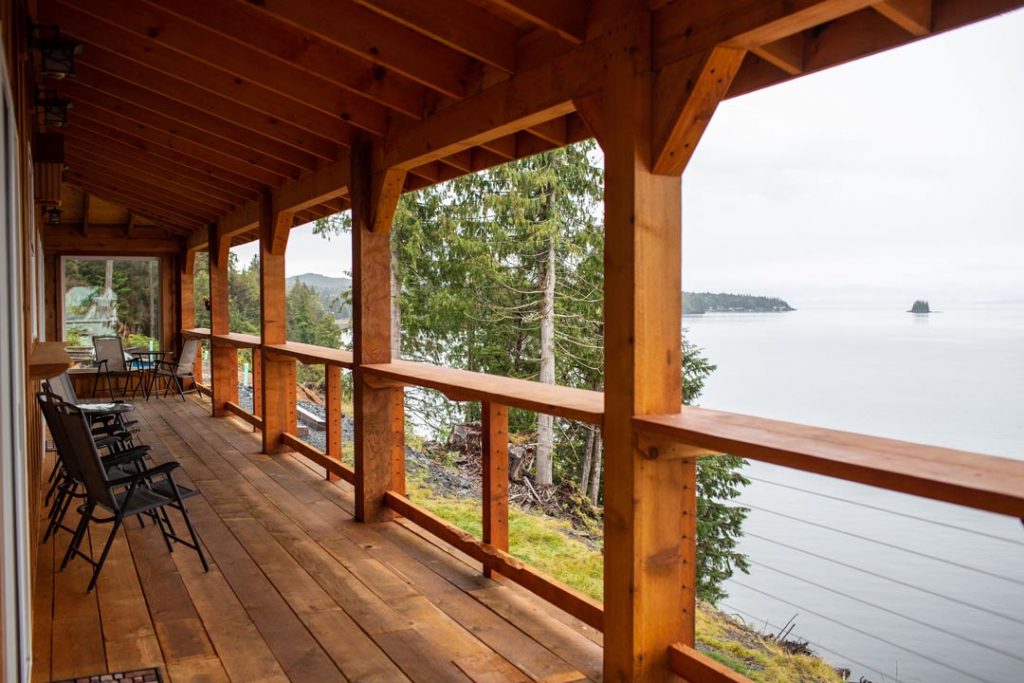 Planning to visit Ketchikan, Alaska? At Anglers Adventures & Outfitters, we have everything you need here to make it a successful and memorable trip. Brand spanking new in 2019, Anglers Adventures & Outfitters is proud to announce our oceanside Alaskan lodge rental for our guests. There has never been a better time to visit and discover all the wonderful aspects of Ketchikan.
An Oceanside Alaskan Lodge with a View of Ketchikan Waters
Having the complete set-up when you are headed out to fish the great waters of Southeast Alaska is a component of your trip that is extremely helpful. Many of those coming to fish the Alaskan waters want to be up close and personal the entire time. When you step out onto the deck of your lodge, you can breathe in the clean Alaskan air, while taking in all the beautiful views of Clover Pass. The Anglers Adventures Lodge has a view that really allows you to take it all in. We chose this spot so that everyone could wake up and get excited about being out on the water.
Ocean Side Lodge Rental with all the Essentials
One of the best parts about having your own fishing lodge accommodations is the ease of storing and preparing your catch right when you get back home. When you lodge with Anglers Adventures & Outfitters, you can truly eat what you catch during the same day. Our lodge offers an attached and ventilated fish processing room with freezer storage. Whether you are planning on having your fish shipped and mounted or you want to prep and eat your delicious catch, our lodge has it covered and makes all things possible.
Lodge Rental and Fishing Charters
Let's not forget the reason we are here! When you stay at our oceanside Alaskan lodge rental, you are getting a package deal. Come and visit Ketchikan without having to lug all of the gear. Set out on your charter for an entire day knowing that all of your fishing gear is covered. Rods, reels, tackle, bait, rain gear if needed and your fish processing equipment is fully supplied. This 3 bedroom, 2 bath lodge truly is a fisherman's dream.
Ready to learn more about your new oceanside Alaskan lodge rental? We are currently taking 2019 fishing and lodging reservations now! Don't miss out on your opportunity to wake up in the beautiful oceanside Clover Pass. For more information about Anglers Adventures & Outfitters or to book your trip today, call (907) 254-0880 or send us an email at brian@anglers-adventures.com.