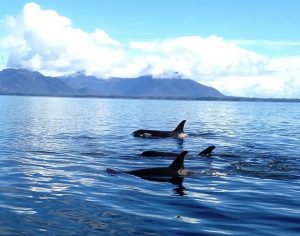 Southeast Alaska is the pinnacle of a fisherman's dream. It is home to an abundance of wildlife and a variety of angling opportunities out on the water. If you are visiting Alaska and looking for a fishing or whale watching charter experience of a lifetime, consider booking with Anglers Adventures & Outfitters.
Whale Watching in Southeast Alaska on a Charter
Finding time during your visit to explore the Alaskan waters is a priceless experience for anyone that enjoys wildlife. At Anglers Adventures & Outfitters, our passengers are always excited to get a close look at the wildlife we have and the gorgeous whales that frequent our waters. Sea lions, humpback whales and even killer whales flood our waters and have frequently put on a nice show for our passengers, especially in the spring and summer months. These beautiful creatures are following some of the same fish that we are also trying to catch! During one of our fishing charters, we bore witness to a sea lion being thrown out of the water with a killer whale's tail. Frequently, we pinch ourselves to make sure that this wildlife view is not just a dream! South East Alaska Whale Watching Charters are an adventure unlike any other when you have the right tools, the right transportation, and the right guide and captain to show you the way.
Fishing in Southeast Alaska on a Charter
Our South East Alaska Fishing Charters are equally a thrilling time for anyone that enjoys reeling in a King Salmon, beautiful Halibut, or even some black and grey cod. At Anglers Adventures & Outfitters, we offer half, full and even multi-day fishing options. We take care of everything from beginning to end. Our boat is fully stocked and equipped to handle all of your bait and lures, rain gear, and even snack needs. Our boat is more than accommodating for 4-6 passengers with a heated indoor cabin and private bathroom. Our Captain and expert angler, Brian Ringeisen, has over 26 years of guiding experience and 25 years serving as a U.S. Coast Guard. He can assist you with all of your angling needs as well as put you in the right positioning to catch the fish you've been dreaming of.
Southeast Alaska Charter
There has never been a more prepared and welcoming Southeast Alaska Charter to handle your fishing and whale watching dreams than right here at Anglers Adventures & Outfitters. If you are searching for fishing or whale watching charters, call Anglers Adventures & Outfitters today at (907) 254-0880 or send us an email at brian@anglers-adventures.com.