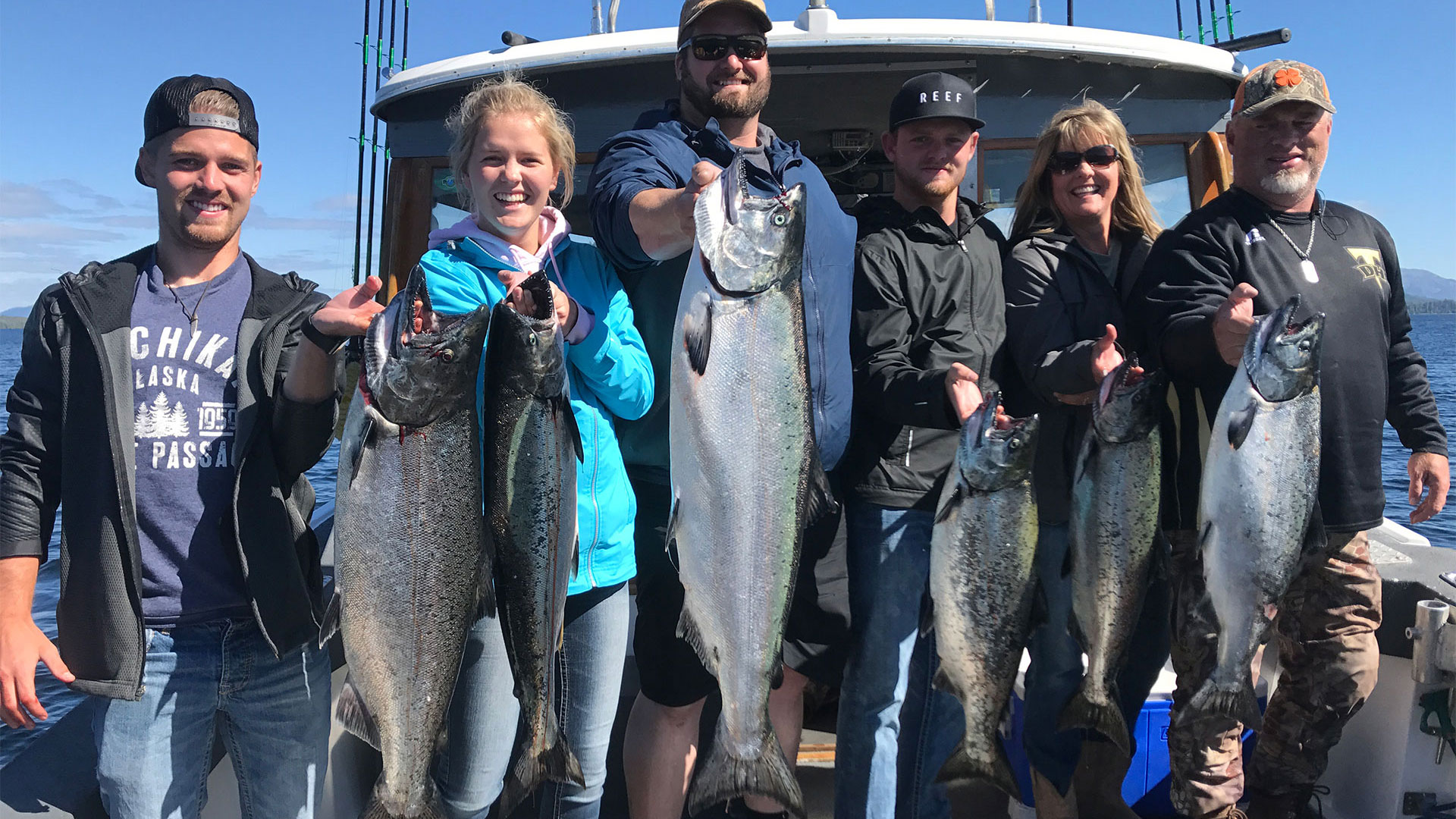 If you search for pricing options for an Alaska king salmon fishing trip, you are likely to find a wide range of prices, from extremely high to very to 'that sounds really bare bones.' Anglers Adventures works with our customers to ensure that our king salmon fishing trips are competitively priced and perfectly balanced between being appropriately outdoorsy and luxuriously comfortable. Our prices are competitive; they are also dependent on a number of variables, including the number of people in your party and how long you want your king salmon fishing trip to be. Anglers Adventures has established a reputation for being the fishing adventure company we set out to be: a competitively priced provider that offers excellent fishing opportunities in one of the most beautiful places in the world.
Ketchikan, Alaska King Salmon Fishing Excursion
Ketchikan is that place. For our money, it is one of the THE most beautiful places in the world. No matter how you look at it, Ketchikan is a truly beautiful place with excellent fishing. King salmon fishing is among the best of all Alaskan fishing. The king salmon is aptly named. It is the signature fish of Alaska and is largely responsible for the successful charter fishing excursions we plan at Anglers Adventures. Because of the importance of the king salmon to the Alaskan economy, it is not overfished. So, you can feel good knowing that your half-day or full-day trip will not damage the overall king salmon population.
Half Day Prices Per Person: $175 per person
Full Day Prices Per Person: $350 per person
This price is good for up to four people and is all inclusive. From gear to fishing tips and snacks, our fishing charters make it as relaxing as possible to catch a prized king salmon.
There is another aspect of king salmon fishing trip pricing that should be addressed. When you schedule your adventure with us, you are not just buying time and the supplies necessary to complete the experience. You are buying memories. Lots of people these days are saying something we agree with, which is that you should not buy things, you should buy experiences. That is an ideal description of what a king salmon fishing trip with Anglers Adventures costs.
Book your Next Fishing Trip with Anglers Adventures
We do all we can to make the entire scheduling process as easy as possible. We will work with you to determine the best combination of services and amenities for the time you have available, and that continues when you get out on our boat, The Sierra Dawn. When you start your fishing, you will do so on a boat that is extremely well maintained and captained by an expert, Brian Ringeissen.
If you have questions, contact us by calling (907) 254-0880 or emailing brian@anglers-adventures.com. We can make sure that you book the perfect king salmon fishing excursion for your needs and your budget.