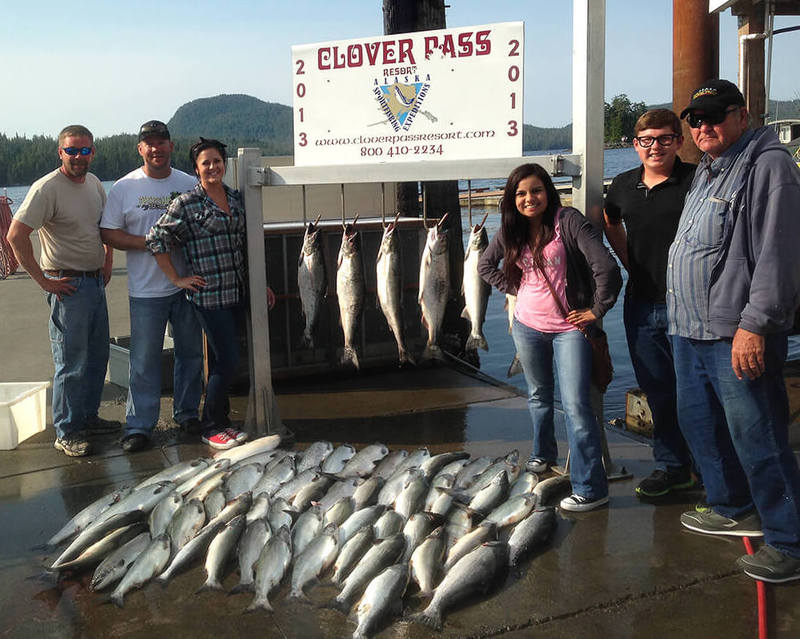 For mountain climbing and hiking enthusiasts, Colorado offers many mountains that rise above 14,000-feet of elevation (these mountains are known as "the fourteeners"). Those mountains are beautiful and challenging, but they can also get more crowded than some hikers prefer. Mountains in the 13,000-foot range ("thirteeners") tend to be the preference for people who like a hiking challenge on a trail that may be less congested. You might think of the King Salmon like a fourteener—with a well-deserved reputation and considered an icon the Alaska waters. If the King Salmon is a fourteener, the Silver Salmon may be the "thirteener": not necessarily thought of first, but still well worth the effort and deserving of its stellar reputation.
Booking an Alaska Guided Fishing Trip for a Group
Anglers Adventures offers a number of guided fishing trips for silver salmon. We can accommodate parties of up to six people on The Sierra Dawn, our 28′ Bayline Trophy that has a new pair of 225hp Honda's, a raised cabin, and new electronics. The Sierra Dawn is captained by Brian Ringeissen, an experienced and highly trained professional who knows how to find Silver Salmon in the Southeast Alaska waters. You can plan a fun, safe and leisurely guided fishing trip with five of your close friends or family members.
When you catch a silver salmon, you will know what it feels like to win a battle with a substantial fish. Silver salmon are usually in the eight to twelve pound range, which is slightly smaller than the King Salmon. The silver salmon is also an important part of the Alaskan economy. In fact, approximately three-quarters of the silver salmon caught in the United States are caught in Alaska.
When you book a guided fishing trip with Anglers Adventures, you will be spending time in one of the most beautiful places on Earth. Ketchikan, Alaska, often appears on various lists of the most beautiful cities in the United States, and with good reason. It is a gorgeous coastal town with mountains inland, beautiful water, generous people, and of course, great fishing.
Silver Salmon Guiding Fishing Trip, Ketchikan, Alaska
If you enjoy good fishing, but have not yet fished for salmon, the silver salmon would be a great one to start with. It is a challenging fish, and delicious to eat. The silver salmon is easiest to catch during the period between July and November, so if your group has a preference for going on your adventure a bit later in the summer or into the fall, the silver salmon is the perfect catch. Anglers Adventures wants to make your guided fishing trip exactly what you are looking for. If you have questions or want to book a trip, call us at (907) 254-0880, or send an email to brian@anglers-adventures.com.