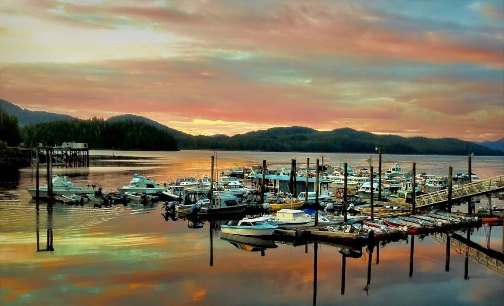 When you come for a visit to Alaska, odds are it's not so you can sit in a hotel room and watch movies. No, you come to breathe that Alaskan air! You come to look out at the water and see nothing but blue skies and blue waves. You come to take in your surroundings and become one with nature. Perhaps you even come to catch that big fish you've always dreamed about. Whatever your reasoning for visiting Alaska, Anglers Adventures & Outfitters is here to help those goals and dreams come to fruition. If you are searching for the memorable Alaskan fishing trip or want to get up close and personal to Alaskan wildlife with a sightseeing trip you'll never forget, Anglers Adventures & Outfitters has got you covered.
Alaska Fishing
In Alaska, fishing is its own category of entertainment and sport. People travel from all over the world to fish in the Alaskan waters. Known for being home to the great King Salmon and large Halibut fish, many people depart our boat with the most unforgettable fishing trips of a lifetime. At Anglers Adventures & Outfitters, we target all types of salmon, halibut, rockfish and even black and grey cod. We offer full and half day fishing charters for anyone interested in getting out on the water and discovering their love for Alaskan fishing. From novice fishermen to expert anglers, we have the knowledge and experience to handle all types of skill sets on our charters. Captain and owner, Brian Ringeisen, has been providing guided fishing trips in Ketchikan for over 26 years, along with serving in the Coast Guard for 25 of them. He has the knowledge and experience to help all of our passengers reach their fishing goals.
Sightseeing in Alaska
Maybe fishing is not your thing, and that's okay too! In order to really experience all that Alaska has to offer, it's important to get yourself out on the water and take in all the sights! For whale watching and all other sightseeing excursions, Brian will guide you through the waters, placing you in the best position possible to catch a glimpse of all the beautiful wildlife that Alaska has to offer. From feisty sea lions to humpback and killer whales, the amount of wildlife in our waters is a thing of beauty that should be on everyone's bucket list!
Whether you are planning a fishing trip or just want to take in all the sights, Anglers Adventures & Outfitters is the perfect place for you. Our boat has a private, enclosed cabin and bathroom on board. Our boat comes equipped with all the tools and gear you need to be successful out on the water, including snacks and drinks. For more information about Alaska fishing and sightseeing trips, give us a call today! Contact us at (907) 254-0880 or feel free to send us an email at brian@anglers-adventures.com.