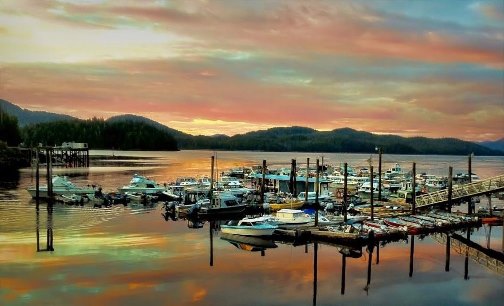 The beauty of Ketchikan, Alaska, stands up to the beauty of anywhere else on Earth.  It may be unmatched in its beauty if you are someone who loves to fish.  Anglers Adventures offers multiple ways to enjoy some of the best charter fishing in the most beautiful corner of the world.  If you are from Alaska, you know that what we are saying about Ketchikan is true.  But if you are not from Alaska, it may be time for a visit.  Because even if you end up deciding that you have been to somewhere you consider more beautiful, there will be no denying that the beauty of Ketchikan gave you something to think about.
Ketchikan, Alaska Fishing Charters
Anglers Adventures can help you fish for salmon, black and grey cod, rockfish, and halibut.  Each has an important place in making Alaska what it is, but if you have a preference for one or another of those fish listed, our crew will help you get what you are after.  And you can fish for them in multiple ways: we offer full-day charters and half-day charters.  Full-day charters tend to be suitable for people who know that they love fishing and have a definitive idea of what they would like to do during their day out on the water.  Half-day charters can be more appropriate for people who are new to fishing, perhaps a bit unsure about whether or not they will enjoy a full-day on a boat, or who simply have limited time.
No matter what you may be looking for, we work hard to help you decide how best to spend the time on your fishing charter.  We will do all we can to ensure that you enjoy the charter you choose.  That is not only part of our business model, it is a built-in flexibility provided by Ketchikan, Alaska.  The ocean can be unpredictable, and of course so can the fish you are out to catch.  We work hard to maximize that flexibility so that you can enjoy every moment on our boat.
Locally Owned Ketchikan Fishing Charter Company
The Sierra Dawn, captained by Brian Ringeissen, provides a unique combination of fishing utility and the comforts of home.  The boat is exceptionally well maintained, so you can feel confident at all times in its safety.  Moreover, Brian is a local Ketchikan resident and a highly trained boat operator.  We provide you with necessities like bait and equipment so that you do not have to worry about transporting more than is necessary.  And when you are out on the boat, you will have access to your own cabin with your own private bathroom.  It provides just enough comfort while you enjoy the rustic beauty of Ketchikan.
Charter Fishing in Ketchikan, Alaska
If you have any questions about guided fishing options in Ketchikan, Alaska, contact us by calling (907) 254-0880, emailing brian@anglers-adventures.com.