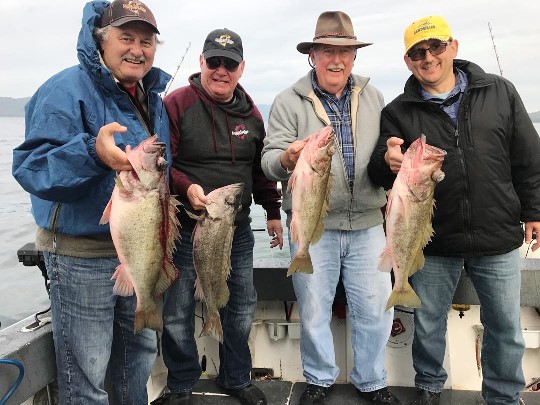 Lots of people we meet love the idea of chartering one of our longer adventures but have one doubt or another.  It may be that you have little fishing experience and do not necessarily want to commit to a full-day or multiple-day charter; or you may be uncertain about whether or not you will like it enough to justify the expense of a full day or multiple day charter.  If you have any questions or uncertainty about a longer excursion, a half-day charter is the perfect way to get the flavor of what a charter fishing excursion is all about.
Enjoy Wildlife and Fishing on a Half Day Charter
One thing is almost certain: it is very easy to fall in love with the waters off of Ketchikan, AK.  The scenery is stunning and the possibility of seeing wildlife while you are out on the water is even better than when you are on land.  While it is possible to see wildlife while driving through Ketchikan and its surrounding areas, remember that wild animals tend to avoid human contact.  While you are out on our boat, you are part of the scenery, not necessarily one of those scary human animals that wildlife try to avoid.  When you fish from the Sierra Dawn, you not only have the chance to see sea mammals while fishing, you may also see land animals on shore.
Half Day Chartered Fishing Trip in Ketchikan, AK
A half-day fishing charter is a great option for novices, but also for people who know they love fishing but whose time is limited.  We make every attempt to expand our clientele by providing as many options as possible, and we have found that our half-day charters are great appetizers for people considering one of our longer options.  The half-day charter option allows you to pack in a lot of adventure in a relatively short period of time.
Build your own Fishing Excursion, Ketchikan, AK
Regardless of the charter option you choose, you are assured of our commitment to safe adventuring and a true Alaska experience.  The Sierra Dawn is captained by Brian Ringeisen, who is committed to sharing his love of the outdoors with people.  Enjoying outdoor adventures from a boat creates a unique experience, and it may just ignite a new love of fishing for people who have little or no experience with it.  If you are an experienced angler, a half-day charter offers the challenge of packing a lot of good fishing into a relatively short period of time.
Whatever your scheduling preferences, we are confident that a half-day charter will be enjoyable.  To schedule a charter or ask some questions, call us at (907) 254-0880, email brian@anglers-adventures.com today!