"Give a man a fish and he has food for a day; Teach him how to fish and you can get rid of him for the entire weekend." -Zenna Schaffer
That's right, an entire weekend! If you are an angler looking to venture out into the Southeast Alaskan waters, it's time you come aboard our charter at Anglers Adventures & Outfitters. Here, we offer an angler's multi day customized fishing charter all throughout the year. We are proud to provide some of the best charter fishing in Ketchikan, Alaska and are even more excited to offer it as a multi-day trip!
Customizing Your Charters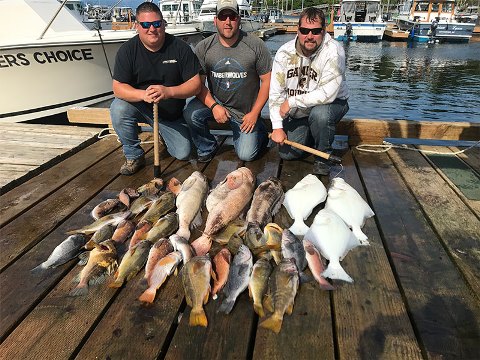 If you have any fishing experience or consider yourself an angler, it's likely that you already have an idea about what type of fish you'd like to go after. The beauty about having a multi-day fishing charter is that you can customize it to whatever type of trip suits you and your crew. Take a day or two to fish for your prized King salmon or focus your efforts on catching the beautiful and delicious Halibut we have in Southeast Alaska. Perhaps you have caught your dream catch and want to spend the day whale watching? Whatever you'd like to do during your multi-day fishing charter is up to you. Owner and Captain at Anglers Adventures, Brian, has over 26 years of guiding experience and has served as a U.S. Coast Guard for over 25 years. He knows these waters like the back of his hand and is extremely knowledgeable with all types of Alaskan fishing.
Multi-Day Charters
When you reserve your multi-day charter, our team of professionals will offer you and your group in-town pickup. Every charter includes all the instruction and guidance as you need or prefer. Our boat is equipped with gear and rainwear for your entire group. This includes all of the bait, tackle and lures that you could possibly need out on the waters. As always, drinks and snacks are also provided. One of our greatest joys while out on the water is watching an angler catch the fish that he or she has been waiting all their life to get. When this happens, we offer all of our guests custom processing and shipping at an affordable price. Fishing licenses and stamps are also available for sale on the boat.
If you are interested in an angler's trip of a lifetime or just want to get away for a few days, call Anglers Adventures & Outfitters today and book an anglers multi day customized fishing charter. For more information or to make a reservation, contact us today at (907) 254-0880.