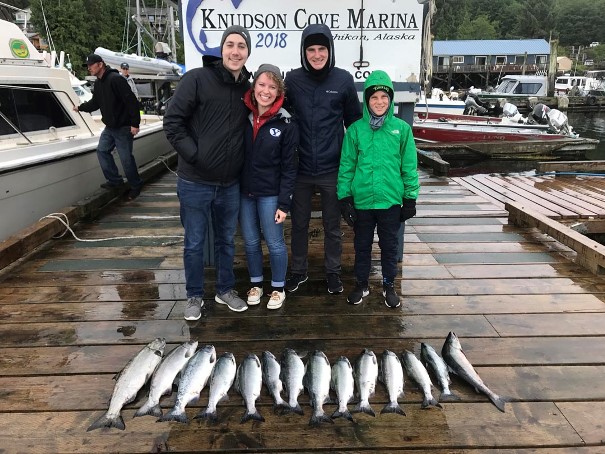 Alaska is a vast wilderness state with an abundance of wildlife and some of the best fishing found anywhere in the world. Knudson Cove, located just 15 miles to the northwest of downtown Ketchikan, Alaska is tucked into the Tongass National Forest. This region is home to the largest national forest in the country. This is also where you can catch Anglers Adventures & Outfitters for a fishing charter that could be the highlight of your Alaskan vacation. Captain Brian can guide you to the finest sport fishing spots where you are likely to catch Halibut, Red Snapper or King Salmon while aboard a 28' Bayline Trophy boat with heated cabin.
Knudson Cove Marina
While downtown Ketchikan, Alaska is an inviting place to find culture, shopping and food, the fishing is best had away from the commotion in town. Just a short drive away from Ketchikan is Knudson Cove Marina. This beautiful area is situated in the perfect place to climb aboard a charter boat and set out for an adventure. The fishing is excellent and the sites are just as spectacular as you can imagine. Knudson Cove is nestled into the spectacular Tongass National Forest.
Tongass National Forest Wildlife
Tongass National Forest is approximately 17 million acres in size. As America's largest national forest, it takes up most of the southeast Alaska Panhandle with a combination of forests, deep waters, glaciers and mountains. You can find an abundance of wildlife in the air, land and water. Many of these creatures can be viewed while enjoying a full day or half-day fishing charter with Anglers Adventures & Outfitters.
Brown Bears
Bald Eagles
Humpback Whales
Orcas
Sea Lions
Sea Otters
Seals
Wolves
Ducks
Ravens
Sea Gulls
King Salmon
Sitka Black Tail Deer
Southeast Alaskan Fishing Boat Charters
The southeast Alaskan Panhandle area is rightly known as the place to catch salmon and other large fish if you know where to find them. Fishing boat captain Brian Ringeisen has spent the better part of his life navigating these waters and he is passionate about showing guests what is so great about sport fishing near Knudson Cove. Fishing boat charters can accommodate 4 to 6 persons. Half-day charters allow for 4 hours of fishing. Full day fishing charters provide you with 8 to 10 hours of fishing. Multi-day charters can take Alaska fishing to a whole new level.
Experienced Fishing Boat Captain
Southeast Alaskan fishing boat charters provided by Anglers Adventures and Outfitters can take you out to where the fish are biting. During the months of January, February and March, anglers are known to reel in large halibut, red snappers and king salmon. There is no substitute for experience when it comes to chartering a fishing boat captain for your Ketchikan, Alaska fishing trip setting out from Knudson Cove.
For more information on Alaska Fishing Charters contact Angers Adventures & Outfitters at: (907) 254-0880 • Email: brian@anglers-adventures.com.