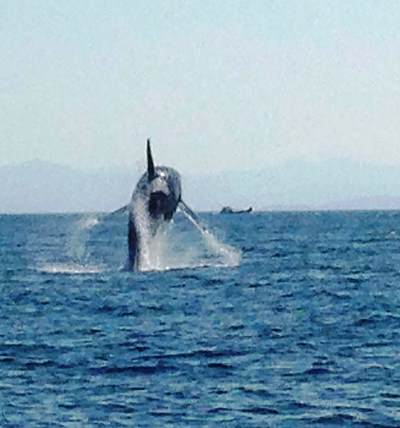 Maybe you have had the experience of being out for a hike and being surprised by a moose. Or an elk. Or a porcupine. If you are really lucky, on one of those hikes, you have happened upon a bobcat or even a mountain lion. The experience of being in nature and expecting only to enjoy the weather or the fresh air, but then being surprised by the unexpected appearance of one of those creatures is humbling. It is also safe to say that most people who enjoy spending time in the outdoors have had an experience like that.
What most people who love the outdoors have not experienced, however, is the sighting of a whale. If you are humbled by the sighting of a mountain lion or even a grizzly bear, the discovery of a whale will not only humble you, it will cause your chest to swell with awe.
Fishing Excursion in Ketchikan, Alaska
Chartering a fishing adventure with Anglers Adventures can give you the chance to experience that highly unique feeling that comes from the combination of humility and awe. Anglers Adventures is owned and operated by Captain Brian Ringeisen, a highly experienced mariner and fishing guide. Captain Brian is highly accomplished at providing exciting fishing excursions in some of the most beautiful and inspiring parts of the world. If excellent fishing is what you are looking for, Captain Brian will take you to places that need to be seen to be believed where the fishing is good. If you love to fish, but also want the chance to do some whale-watching, Brian can take you to other equally gorgeous and inspiring locations where you can keep an eye out for whales while doing some fishing.
Whale Watching on your Fishing Excursion
There is simply nothing in the natural world that can surpass seeing a whale breaching the surface of the ocean. And the fact that you can give yourself the chance to witness such a sight while fishing along the Alaskan coast on a boat, The Sierra Dawn, that provides many of the luxuries of home, is a stunning reality. If you are someone who loves the idea of having such an adventure, but you are worried about the possibility of its being a little too ruggedly adventurous, please know that Brian always prioritizes your safety. Captain Brian Ringeisen is not only a veteran of the US Coast Guard, he is licensed and insured, and is also certified in First-Aid administration and CPR. Those qualities serve as the foundation of your experience and Brian always makes it his mission to help you experience your adventure, not his.
The whales of Ketchikan, Alaska, are waiting for you! To schedule a fishing excursion or to discuss the possibilities with Captain Brian, give Anglers Adventures a call at 907-254-0880 or email him directly at brian@anglers-adventures.com.