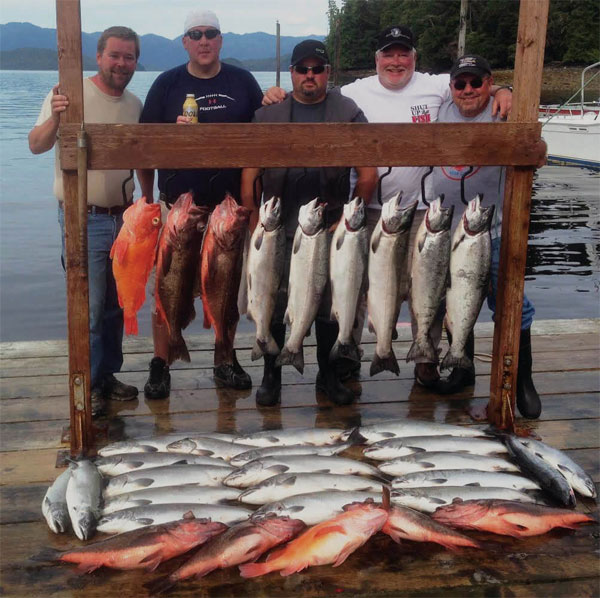 For the past 55 years Chinook Salmon (aka King Salmon) has been known as the official state fish of Alaska. This much celebrated species of fish is coveted for its large size, nutritional value, migratory behaviors and sport fishing adventures. Anglers Adventures & Outfitters is proud to offer guided king salmon fishing charters for up to 6 guests. Our experienced fishing boat captain knows all of the favorite Alaska salmon fishing spots that are known only to locals. When you book a sport fishing expedition with Anglers Adventures & Outfitters you can enjoy the best king salmon fishing trip of a lifetime while being awed by the rugged coastal beauty of Southeast Alaska.
Chinook Salmon Fun Facts
Measuring in at an impressive 36 inches in length and often 30 pound weight, Chinook Salmon deserves a spot in fisherman lore as one of the most sought after salmon species. They have earned the right to be called king salmon due their many wonderful qualities.
Typical Size measures 36" with a 58" king salmon taking the record spot
Typical Weight of 30 lbs. can be outdone with a record breaking 126 pound fish
King Salmon is the largest salmon species in the Pacific
Chinook (King) Salmon is the official state fish of Alaska
Ketchikan, Alaska is known as the salmon capital of the world
King Salmon live 3 to 7 years on average
Black spots that appear on their fins and gum line
King Salmon is probably the most delicious salmon species
A female King Salmon deposits 3.000 to 14,000 eggs
Only The Best Alaska Salmon Fishing Spots
If you are ready to catch a large, highly prized king salmon for yourself you will need to know where to look. Allow Anglers Adventures & Outfitters dedicated boat captain show you his favorite Alaska salmon fishing spots. Captain Brian lives in the beautiful Ketchikan, Alaska area year round. He is ready, willing and able to share his love of fishing for large salmon with you and your friends or family. Guided salmon fishing charters can be arranged for up to 6 guests on the 28' Bayline Trophy Boat.
Book Your King Salmon Fishing Trip Today!
Abundant, large, delicious Chinook salmon are waiting for you. Reserve your spot today on the best king salmon sport fishing trip of your lifetime. The adventure never ends as you explore the pristine waters and rugged coastline areas of the Salmon Capital of the World around Ketchikan, AK. An exciting king salmon fishing charter with Anglers Adventures & Outfitters includes gear, bait, tackle and refreshments for up to six individuals. Your local Alaskan salmon fishing guide will never let you down.
Contact Anglers Adventures & Outfitters at (907) 254-0880