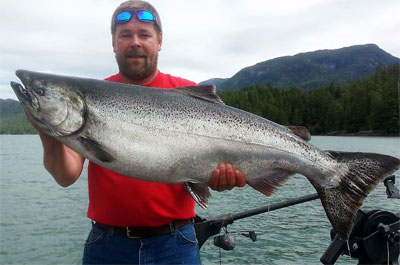 If we were all being honest, an Alaskan cruise is on the bucket list for most everyone. Getting out onto the Alaskan waters is such an incredible sight to see! While Alaskan cruises are a fantastic way to explore our waters, it doesn't exactly give you that hands-on feel that you've been dreaming of. At Anglers Adventures & Outfitters, we want you to make the most out of your cruise excursion experience. We are a local Ketchikan fishing charter that brings you close up to all of the fun and excitement that our waters have to offer!
Choose an Experienced Fishing Charter
Once in a lifetime experiences are what Alaskan cruises are all about. At Anglers Adventures & Outfitters, we have the knowledge and experience to put you on the best spots to catch your dream fish. We are a locally owned and operated fishing charter that is located a convenient short drive away from the busy Ketchikan downtown area in the gorgeous Knudson Cove. The owner and Captain, Brian Ringeisen, has over 26 years of guiding experience and also has served as a U.S. Coast Guard licensed Captain for 25 years. If you are trying to get out and explore the Southeast Alaskan waters, Anglers Adventures & Outfitters will give you that true experience.
Fishing Charter Ketchikan, AK
Choosing Anglers Adventures & Outfitters as your Alaskan cruise fishing charter is the perfect way to really get a feel for the waters. We offer half and full day options, depending on how long your cruise ship will be in port, with the ability to accommodate your transportation, licensing, fish processing, and shipping. Arranging your Alaskan fishing trip has never been easier! Tell us what you want to fish! We target all different types of popular Alaskan fish in our area including salmon, halibut, rockfish and black & grey cod. You don't have to be an experienced fisherman to hop on board, either. All of our charters include instruction and guidance at your level. Whether you are an experienced angler or stepping on a boat for the first time, you will have a ball! Anglers Adventures & Outfitters also provides all of your gear and rainwear, bait, tackle and lures, as well as drinks and snacks.
Want to learn more about our fishing charter service in Ketchikan, AK? To find out more information or to book your charter, give Anglers Adventures & Outfitters a call today at 907-254-0880.