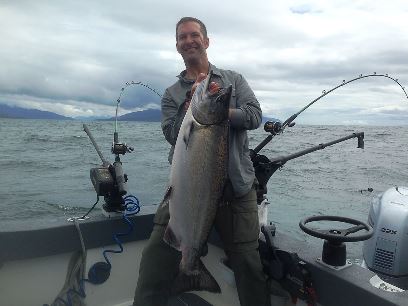 Can you smell the fresh southeast Alaskan waters right now? Can you visualize pulling in the largest, heaviest salmon that you've ever encountered? Now imagine picking that bad boy up and taking a picture with a 40 lb King Salmon in your arms. At Anglers Adventures & Outfitters, our goal is always to help you achieve your goals. Many guests visiting southeast Alaska come for the fishing trip of a lifetime. After all, every experienced angler knows that this area is home to the largest species of salmon around, the King Salmon. At Anglers Adventures & Outfitters, we want to help you achieve that goal by offering specific King Salmon fishing charters.
40lb Ketchikan King Salmon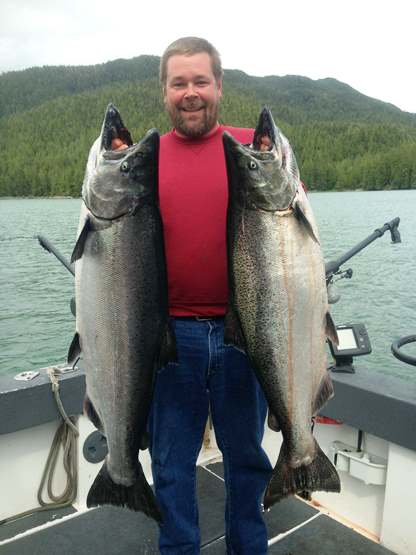 Whether you are new to fishing or are a certified professional, fishing for King Salmon is a lot of fun and can be extremely rewarding should you yield positive results. Ketchikan, AK is home to the largest species of salmon in the world. are the. King Salmon is also Alaska's state fish and one of the most desirable and prized catches for fishermen all around the world. They are most noted by their weight and size, some even weighing over 40 pounds. They are also recognized by distinct spots running up and down both their fins and their mouths. Not only are King Salmon a sight to see, they are just as delicious as they are breathtaking. Delicious, large and beautiful, what more could a fisherman ask for?
King Salmon Trip of a Lifetime
When you charter our services for a King Salmon trip, our boat will be fully stocked with artificial lures and dead baits that have shown to be the most successful in the past. Brian Ringeisen, the captain and owner of Anglers Adventures & Outfitters, will take you and your guests out to the most prime locations for King Salmon in the area. He will guide and help you with all of your fishing needs. From casting the bait to reeling in the big one, Captian Brian is a savvy Angler who has experience in guiding guests with all types of fishing backgrounds. The best time to catch your King Salmon is in May, June or July. These early summer months fill up quickly so don't miss out!
Ready to go on your great King Salmon Alaska adventure? At Anglers Adventures & Outfitters, we aim to equip you with all the tools and knowledge to catch a King Salmon and have a great time out on the water. For more information about chartering a King Salmon trip, call Anglers Adventures & Outfitters today at (907) 254-0880 or email brian@anglers-adventures.com.