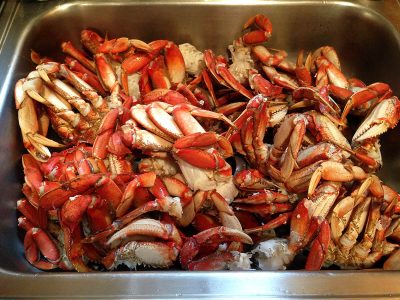 What's the best part of fishing? Is it being out on the open water? Is it catching that massive fish you've been waiting for years to reel in? Our Is it unbelievable stories that come from an unforgettable trip? Like a customized fishing charter for six. Whatever you're looking for in your next adventure, Anglers Adventures and Outfitters will help provide your group with the best customized fishing trip Ketchikan Alaska has to offer!
Why Choose a Chartered Fishing Trip?
Once you've been on a chartered fishing trip, you'll understand why there's no better way to fish a new area than with a guide on a charter boat. Our guide Brian has been working and playing in the Ketchikan waters for 26 years, and is an expert at finding specific fish species – and the biggest of them. He'll guide you exactly where you need to be to catch what you're looking for, and he'll make the trip fun and safe for everyone, helping newer fishermen and women get the hang of a sport that requires patience. When you book a trip with us, your trip will include:
• Bait and tackle
• Lures
• Rain gear for rainy days!
• Other essential fishing gear
• Snacks and drinks
• Fishing licenses and stamps for purchase on the boat
Charter Fishing Trip Options
When you embark on a Ketchikan chartered fishing trip with Anglers Adventures, you have several decisions to make. How long will you be staying with us? What type of fish will you be hoping to catch? How many people will be joining you on your adventure? All of these are questions we can help you answer here.
• Half-Day Charter Trips: Includes 4 hours of guided fishing for 4-6 people.
• Full-Day Charter Trip: 8-10 hours of guided fishing for 4-6 people.
• Multi-Day Charter Trips: If you want to stay in the Ketchikan area for several days, that's no problem! We can help you create a custom trip.
• Trips with up to 6 people: If you have fewer people than is needed for our typical charters, let us know. We'll help you create a charter trip that works for your group.
Ketchikan Sport Fishing Charters
Once you've decided how many people you'll be bringing along on this adventure and how long you'll be exploring Ketchikan, think about the type of fish you're hoping to catch. In Southeast Alaska, you'll find several types of fresh water fish, including:
• King or Chinook Salmon, Coho Salmon, Chum Salmon, Pink Salmon, and Sockeye Salmon
• Halibut
• Rockfish
• Black and Grey Cod
If you're ready to start planning your custom charter fishing trips in Ketchikan, AK, get in touch with our captain Brian at Anglers Adventures and Outfitters at (907) 254-0880 or brian@anglers-adventures.com, and build the trip of your dreams.