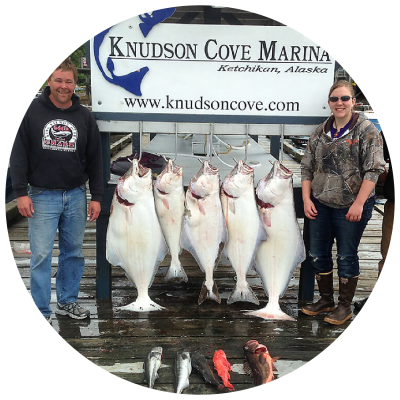 You can take in the breathtaking views of the Alaska landscape and catch a glimpse of amazing wildlife while you are on one of our  Ketchikan halibut fishing charters. Halibut are one of Alaska's most popular catches; they are flatfish found in the coastal waters of Alaska, and also a member of the Flounder family.
Halibut fishing season runs in the summer months, primarily from May through September. Anglers Adventures is a locally owned guided Ketchikan fishing charter service that offers full day or multi-day custom halibut fishing charters that you can enjoy. Now is a great time to plan your next fishing trip to the beautiful southeast Alaska area.
With a lifespan of nearly 50 years, halibut are very large. Female halibut can reach several hundred pounds, and they are among the largest of the flatfish. Halibut eat other fish and sea life, so it is important to use bait that will attract them. Our chartered fishing expeditions provide bait, tackle, lures and rain gear. Fishing licenses and stamps are also available for purchase on our boats. So, all you have to do is book your trip – the Anglers Adventures crew will handle the rest.
Custom Halibut Charters Ketchikan
All charters set sail from Knudson Cove, home to some of the very best fishing grounds. Located away from the busy waters of downtown Ketchikan. We know this is the best possible area for a halibut fishing charter. Brian Ringeisen, has more than 25 years of experience as a Captain providing in-depth knowledge Ketchikan. Brian will work with you before your charter to understand exactly how much experience you (and your guests) have, and what your goals are for your trip. In addition to focusing on providing a fun productive excursion, Brian always focused on safety for his passengers. Brian is CPR and First Aid Certified, fully licensed and insured.
Ketchikan Halibut Fishing Charters In Southeast Alaska
Scheduling your Ketchikan halibut fishing charter is simple and easy. All you have to do is call Anglers Adventures at (907) 254-0880 or email Brian directly at brian@anglers-adventures.com to book your trip. Private charters fill up fast ahead of halibut season, so give us a call today!