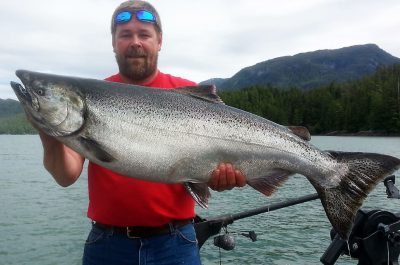 Alaska is one of the areas in the United States best known for sport fishing. That is what brought our Captain at Anglers Adventures & Outfitters to Ketchikan, Alaska. After spending time fishing in Bristol Bay & the Alaskan Peninsula, Captain Brian Rigneisen settled down right here in Ketchikan, AK. Offering guided sport fishing Ketchikan adventures that you will not forget! So, think outside the box when it comes to your next vacation and consider a sport fishing trip with our Captain at Anglers Adventures & Outfitters.
Get to Know Your Captain
When finding a guided sport fishing tour, you need to choose a Captain that not only has experience as a fishing guide, but also knows the Ketchikan area in and out. First and foremost, Brian Rigneisen has been a U.S. Coast Guard licensed Captain for 25 years. Additionally, he is First Aid Certified and is 100% licensed and insured. So, the minute you step foot in our sport fishing boat, you'll be able to breath easy knowing that your excursion with our sport fishing staff will be safe and fun. Brian lives and breathes sport fishing, and to him there is nothing more enjoyable than sharing his passion with his fishing guests.
Charter Fishing Options
Looking to spend time fishing with a group of 4-6 people? Maybe this is your family vacation this year. Or, it could be that you and your best friends have a planned trip to Ketchikan in the future and you're looking to schedule a memorable sport fishing experience. At Anglers Adventures & Outfitters, we offer both a ½ day charter option for $175 per person as well as a full day charter option for $350 per person, depending on your preferred length of fishing time. On our sport fishing trips, your Captain will direct you to the premier areas where you can fish for salmon, halibut, rockfish as well as black and grey cod. What is great about our charter sport fishing trips is that we provide you with all that you need. Some of the items that come with our sport fishing charter options include:
● Sport Fishing Guidance
● Fishing Gear
● Raingear
● Bait, Tackle & Lures
● Food and Beverages
● Unforgettable Views of the Ketchikan Waters
● Fishing Licenses
So, if you plan to spend some time in Ketchikan, AK in the near future, there is no better excursion than a guided sport fishing tour. To request a reservation with our highly experienced Captain, give Anglers Adventures & Outfitters a call today at (907) 254-0880 or email brian@anglers-adventures.com