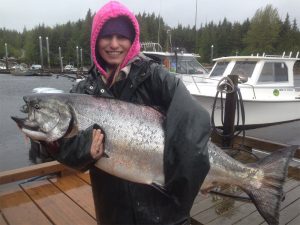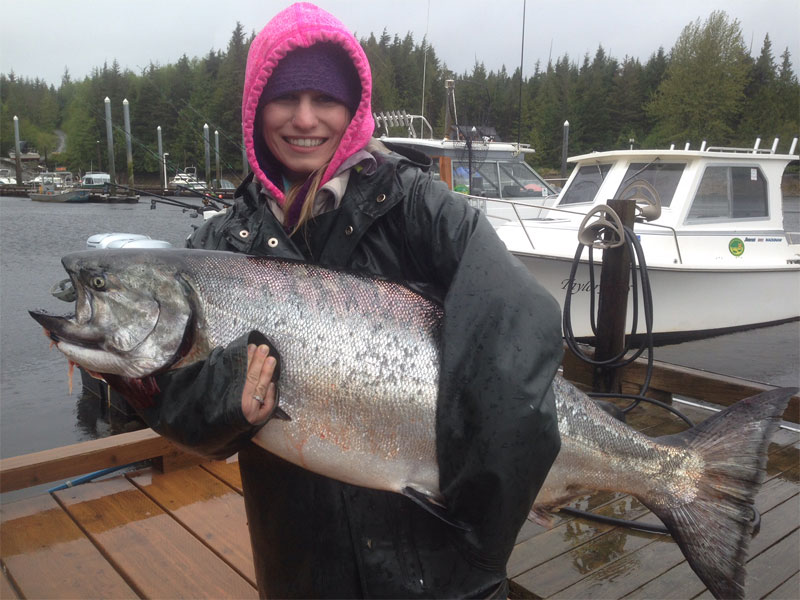 Salmon fishing Ketchikan, AK is one of the world's most popular and sought after fish trips. In Ketchikan, Alaska, we are known for being the "Salmon Capital of the World." If you are searching for fun, adventure, and a whole lot of that delectable fish you love, Anglers Adventures & Outfitters is the place to do it! We offer salmon fishing charters that almost always yield results. If you are searching for salmon, start right here!
Our Salmon Species
The anglers at Anglers Adventures & Outfitters know salmon like the back of their hand. When salmon begin to make their huge runs down the waters of Ketchikan and southeast Alaska, you can bet our anglers are right there chartering guests for the fishing trip of a lifetime. Our favorite and most common type of salmon we catch in Ketchikan are Kings and Silvers. While Chum, Pink, and Sockeye salmon are present in the area, our charters focus largely on the Kings and Silvers.
To catch a King salmon is like winning the golden ticket for avid anglers. It's the largest species of salmon, known for being the best tasting, and clearly the most rewarding. This type of salmon can weigh over 40 pounds. Not only is it big, it's beautiful too. They are known for their spots up and down their fins and mouths. The peak season for our beloved King salmon happens to start in the spring and go through July.
While significantly smaller than your King salmon, Silvers are still your second largest salmon that average around 8-12lbs. These fish can be caught in the masses and they taste delicious. For this reason, 75% of Coho Salmon are coming in from Alaska. Silvers are also known for their irregular and beautiful spots as well as the metallic blue back. Our peak season for this fish happens between July and November.
Chartering Your Salmon Trip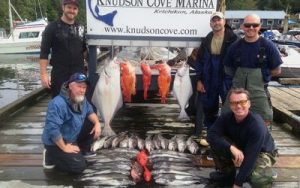 While we can talk about fish all day long, the best part about the trip is the actual charter itself. We have all the instructions and guidance you need or want right on deck. Angler's Adventures outfits everyone in the proper gear, including bait, tackle and lures. We also provide drinks and snacks and endless amounts of fun for everyone on board. For salmon fishing trips, our primary method is trolling with down riggers and mooching. We have artificial lures and dead baits for this.
Want to know more? Go ahead and book your next adventure in Ketchikan at Anglers Adventures & Outfitters and get ready for the salmon fishing trip of a lifetime. For more information on our Ketchikan Fishing Charter, contact us today at (907) 254-0880 or email brian@anglers-adventures.com.