[cs_content][cs_section parallax="false" separator_top_type="none" separator_top_height="50px" separator_top_angle_point="50″ separator_bottom_type="none" separator_bottom_height="50px" separator_bottom_angle_point="50″ style="margin: 0px;padding: 45px 0px;"][cs_row inner_container="true" marginless_columns="false" style="margin: 0px auto;padding: 0px;"][cs_column fade="false" fade_animation="in" fade_animation_offset="45px" fade_duration="750″ type="1/2″ style="padding: 0px;"][cs_text]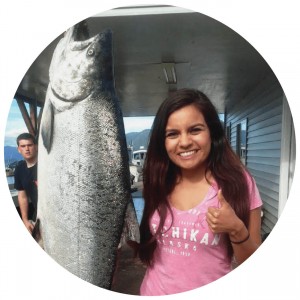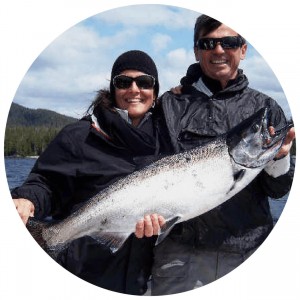 [/cs_text][/cs_column][cs_column fade="false" fade_animation="in" fade_animation_offset="45px" fade_duration="750″ type="1/2″ style="padding: 0px;"][cs_text]
How we fish
Our primary method for salmon fishing is trolling with downriggers and mooching.  We use artificial lures and dead baits.
About Salmon in Ketchikan
Ketchikan is the "Salmon Capital of the World" and for good reason.  Huge runs of salmon make their way through the waters of Ketchikan and Southeast Alaska.  King, Silver, Chum, Pink, and Sockeye run here (though we stick to fishing the Kings and Silvers).
Kings
King salmon or Chinook salmon are the largest species, the best tasting and the most prized catch!  They can weigh more than 40 pounds.  You can distinguish a King salmon because it has spots running up and down its fin and mouth.
May, June and July are best for King Salmon fishing in Ketchikan.  And…did you know?  The King Salmon is Alaska's state fish.
Silvers
Silver or Coho salmon are the second  largest and average 8-12 pounds.  They are also a great tasting fish and in fact, 75% of the coho caught in the U.S. come from Alaska.  Silver salmon have silver sides and a metallic blue back with irregular spots.  We fish for silver salmon in Ketchikan between July and November.
Click here to learn more about salmon.[/cs_text][/cs_column][/cs_row][/cs_section][cs_section parallax="false" separator_top_type="none" separator_top_height="50px" separator_top_angle_point="50″ separator_bottom_type="none" separator_bottom_height="50px" separator_bottom_angle_point="50″ style="margin: 0px;padding: 45px 0px;"][cs_row inner_container="true" marginless_columns="false" style="margin: 0px auto;padding: 0px;"][cs_column fade="false" fade_animation="in" fade_animation_offset="45px" fade_duration="750″ type="1/1″ style="padding: 0px;"][x_feature_headline level="h2″ looks_like="h3″ icon="check-square-o" class="cs-ta-center"]Learn more about our salmon sportfishing charters out of Ketchikan[/x_feature_headline][/cs_column][/cs_row][/cs_section][/cs_content]